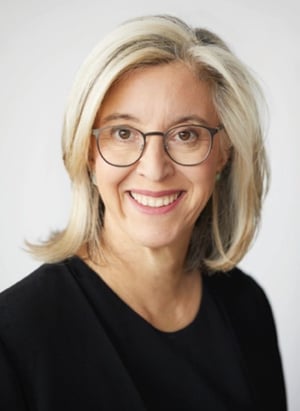 Montréal, 10 Octobre, 2022 –Ingénieure de formation, Mme Chartier se démarque par une approche qui combine le développement d'affaires, le marketing, l'intelligence d'affaires et la plani­fication stratégique. Passionnée d'innovation, elle a œuvré au sein de start-ups et de grandes entreprises, ayant toutes en commun une volonté de transformer leur industrie grâce à la technologie. Elle a occupé des postes en Amérique du Nord et en Europe.
Hélène siège sur plusieurs conseils d'administration d'entreprises privées et d'organisations de recherche appliquée. Depuis 2022, elle a joint le conseil d'administration du Groupe Technosub, un fournisseur des solutions de pompage et de gestion des eaux sur mesure innovantes et durables. Elle siège par ailleurs sur le conseil du Centre de Recherche Informatique de Montréal (CRIM) pour lequel elle préside le Comité de Stratégie; ainsi que sur le Conseil de l'Institut National d'Optique (INO), pour lequel elle préside le Comité Marchés et Technologies.
En tant que Directrice Exécutive du Réseau QG100 de 2017 à 2022, Hélène a animé une organisation regroupant les grands PDG du Québec, qui sont les chefs de ­le de leurs secteurs à l'échelle globale.
De 2006 à 2017, Hélène a occupé le poste de vice-présidente, stratégie et mise en marché chez TELUS Santé et a occupé de nombreux postes de Vice-Présidence en ventes, marketing et gestion de produits au sein de start-ups dans le domaine de l'optique et de l'électronique au Québec. Mme Chartier possède un baccalauréat en génie électrique de l'École Polytechnique de Montréal et une maîtrise en administration des affaires de l'INSEAD de Fontainebleau, en France. Elle a obtenu sa certi­fication de l'Institut des Administrateurs de Sociétés (icd.d) en 2018.
À propos d'emka
EMKA Technologies et SCIREQ outillent les laboratoires de recherche biomédicale du monde avec des instruments scientifiques de pointe pour l'étude de la physiologie et de la pharmacologie cardiovasculaire, neurologique et respiratoire. Crée en 1992, l'entreprise s'est bâti une réputation d'excellence en développant une offre complète de matériels, de logiciels et une expertise unique au soutien des professionnels de la recherche. Elle compte parmi ses clients les plus prestigieux laboratoires pharmaceutiques, universitaires et gouvernementaux. Ses produits sont cités dans plus de 3 000 publications scientifiques et contribuent notamment à l'avancement de la science sur l'asthme, la COVID-19, l'hypertension, les maladies neurodégénératives, ainsi qu'à l'homologation de thérapies novatrices.
EMKA TECHNOLOGIES
Email: emka@emka.fr
Telephone: +33 (0) 1 40 60 76 00
SCIREQ SCIENTIFIC RESPIRATORY EQUIPMENT INC.
Email: info@scireq.com
Telephone: 1 (514) 286-1429
---
Emka TECHNOLOGIES/SCIREQ group is proud to welcome Ms. Hélène Chartier to its board of directors.
Montréal, October 10, 2022 – With her engineering background and extensive experience in management, Ms. Chartier's expertise combines business development, marketing, business intelligence and strategic planning skills. Ms. Chartier is passionate about innovation, and has worked in start-ups and large companies alike, always with a strong desire to transform their industries. She has held positions in North America and Europe.
Hélène sits on several boards of directors of private companies and applied research organizations. Since 2022, she has joined the board of directors of the Technosub Group, a supplier of innovative and sustainable custom pumping and water management solutions. She also sits on the board of the Centre de Recherche Informatique de Montréal (CRIM), for which she chairs the Strategy Committee. Finally, she sits on on the Board of the Institut National d'Optique (INO), for which she chairs the Markets and Technologies Committee.
As Executive Director of the QG100 Network from 2017 to 2022, Hélène led an organization that brings together the great CEOs of Quebec, who are the leaders of their sectors on a global scale. From 2006 to 2017, Hélène held the position of Vice President, Strategy and Marketing at TELUS Health and held numerous Vice-Presidential positions in sales, in marketing and product management within start-ups in the fields of optics and electronics. Ms. Chartier has a bachelor's degree in electrical engineering from École Polytechnique de Montréal and a Master's degree in business administration from INSEAD in Fontainebleau, France. She obtained her certification from the Institute of Company Directors (icd.d) in 2018.
ABOUT emka
EMKA Technologies and SCIREQ equip the world's biomedical research laboratories with state-of-the-art scientific instruments for the study of cardiovascular, neurological and respiratory physiology and pharmacology. Founded in 1992, the company has built a reputation for excellence by developing a complete range of hardware, software and unique expertise to support research professionals. Its clients include the most prestigious pharmaceutical centers, research universities, CROs and government laboratories. Its products are cited in more than 3,000 scientific publications and contribute to the advancement of biomedical sciences for asthma, COVID-19, hypertension, neurodegenerative diseases, as well as to the approval of innovative therapies.
EMKA TECHNOLOGIES
Email: emka@emka.fr
Telephone: +33 (0) 1 40 60 76 00
SCIREQ SCIENTIFIC RESPIRATORY EQUIPMENT INC.
Email: info@scireq.com
Telephone: 1 (514) 286-1429