Hannover and Montreal, March 2020: The Fraunhofer Institute for Toxicology and Experimental Medicine ITEM and SCIREQ Scientific Respiratory Equipment Inc. are pleased to announce their collaboration for the development and commercialization of the ExpoCube® platform. This partnership will enable respiratory scientists with precision instrumentation for translational research based on Air-Liquid Interface (ALI) models.
The ExpoCube® is a precision aerosol exposure system for pulmonary research. It permits highly accurate and reproducible deposition of particles from inhalable aerosols onto cells and tissues from the lungs, eyes and skin, with the following aims:
» Studying the toxicity of airborne particles
» Establishing in vivo or in vitro correlations for inhalation studies
» Measuring the efficacy of therapeutic compounds
The integration of the ExpoCube® with SCIREQ's inExpose® inhalation exposure platform will allow researchers to combine in vitro and in vivo modelling, resulting in an effective use of compounds and better compliance with the 3Rs principle (replace, reduce, refine animal experiments).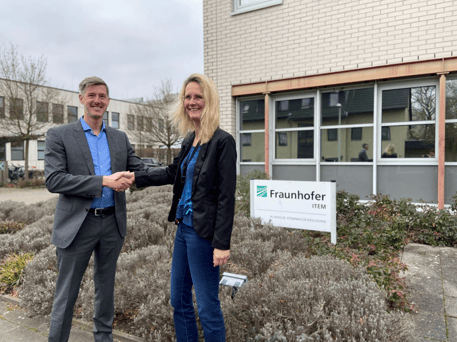 "We're thrilled to work with Dr. Tanja Hansen and the Fraunhofer team on this project. This collaboration is perfectly in line with our mission to enable researchers with cutting-edge instrumentation to advance our understanding and treatment of respiratory diseases. We look forward to deploying this technology in leading research laboratories across the " - David Brunet, Vice President, SCIREQ

"We hope that making the ExpoCube® technology available to respiratory scientists will foster the use of animal-free test methods in inhalation research in accordance with the 3Rs. It's a great achievement to have now a competent partner who will enable researchers across the word to generate highly relevant data with their ALI models." - Dr. Tanja Hansen, Research Scientist In vitro Test Systems, Fraunhofer ITEM
ABOUT SCIREQ:
SCIREQ is at the forefront of preclinical respiratory research. Our mission is to provide pulmonary research scientists with innovative equipment to help them understand, treat, and eradicate lung disease. SCIREQ's products cover a wide range of pulmonary research applications, from the mechanistic study of lung diseases such as asthma and COPD to the development and validation of novel therapeutic approaches. SCIREQ is part of emka TECHNOLOGIES, a leader in scientific instrumentation for preclinical physiology.
ABOUT FRAUNHOFER ITEM:
The Fraunhofer Institute for Toxicology and Experimental Medicine ITEM is one of 74 institutions of the Fraunhofer-Gesellschaft, Europe's leading organisation for applied research. Protecting man from health hazards in our industrialised world and contributing to the development of novel therapeutic approaches are the aims Fraunhofer ITEM is pursuing with its contract research. With a focus on airway research, the institute's R&D portfolio includes three thematic areas: drug development, chemical safety, and translational biomedical engineering. In addition, scientists at the institute's site in Regensburg do research in the field of personalised tumour therapy. With a staff of approximately 380 at its locations in Hannover, Braunschweig and Regensburg, the institute cooperates with industry, service providers, and public authorities in projects that drive economic development and serve the wider benefit of society.